Our team has over 14 years of experience preparing clients for international English language exams, and providing focused and intensive business English courses. Our teaching staff consists of highly qualified and experienced lecturers, both Czech and native English speakers. Please see their individual profiles below.
Head of SAT - Kate Stiles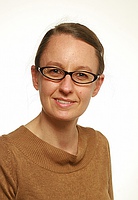 Kate is our SAT expert, she takes care of the methodology and syllabi of our SAT prep courses. She also teaches GMAT, TOEFL and IELTS courses. She has over 9 years of English teaching experience.
Contact: email: kate.stiles@gainaccess.cz or phone: 00420 775 064 396
Since 2009 Teaching English in the Czech Republic
2005 - 2008 English Teacher/Tutor, Princeton Review USA
2006 TEFL Certificate
2001 - 2005 MA in Biology, University of South Florida, Tampa
2001 - 2004 Teacher and Lecturer Assistant, University of South Florida
1994 - 1999 BA in Biology, University of Colorado at Boulder
Head of Teaching - Tim Lloyd
Tim takes care of the methodology and syllabi for our courses. He develops the approach to the learning process for our students and monitors the effectiveness and quality of the teaching. He also teaches some of our prep courses (GMAT, SAT, IELTS, TOEFL...).
Contact: email: tim.lloyd@gainaccess.cz or phone: 00420 725 933 447
Since 2000 in the Czech Republic, Tim's been teaching English, preparing students of English as a foreign language for various ESL exams and for using English in business:

Cambridge certificates: CPE, CAE, FCE, PET, BEC (Preliminary, Vantage, Higher), ILEC
Other certificates: GMAT, SAT, TOEFL, TOEIC, IELTS
Business English courses
Business Development Director - Harry Bunbury
Harry, a previous student of Gain Access during its early years under the GMAT.cz brand name, acts as the team's Business Development Director. For many years a resident of Prague, Harry now calls London home (although a regular visitor to the city) and delivers strategizing and progression for the Gain Access management, whilst seeking out value add opportunities for the group to capitalize on. In addition to Harry's interest in Gain Access, he has a significant involvement in an innovative, market leading Prague based car care company. When not focused on these Harry is back on his core focus of real estate projects across the UK and European markets.
Our Teachers
Philip
Philip is originally from Chicago where he worked for 4 years as a standardized test preparation instructor for the ACT, GRE, and SAT. He was living in Prague for some time for a year (2014 - 2015) and then he came back in 2017 and has been teaching general English and test prep courses since.
2014 - 2015, 2017 - now - Test Prep Teacher and General English Teacher in Prague
2014 - TEFL and TESOL Certification
2012 - 2014, 2015 - 2017 - American College Test Instructor, Mobile Academics, Chikago
2012 - North Park University, Chikago, B.A. in Biology, B.A. in History

Michal
Michal is a highly qualified and experienced Czech teacher, he has over 10 years of English teaching experience. He studied English and Mathematics at Charles University's Faculty of Education and is ready to prepare our students for the GMAT test. He also teaches other prep courses.
Since 2002 Teacher of English (various language schools in Prague, Lycée St. Martin, Rennes, France)

2004 - 2005 English Language Tutor, Charles University, Prague, Faculty of Education

2002 - 2005, University of Economics, Prague, Faculty of Business Administration

1997 - 2002 MA in English Language and Literature and Mathematics, Charles University, Prague, Faculty of Education
1999 - 2000 University of Derby, Great Britain, School of Computing and School of Education